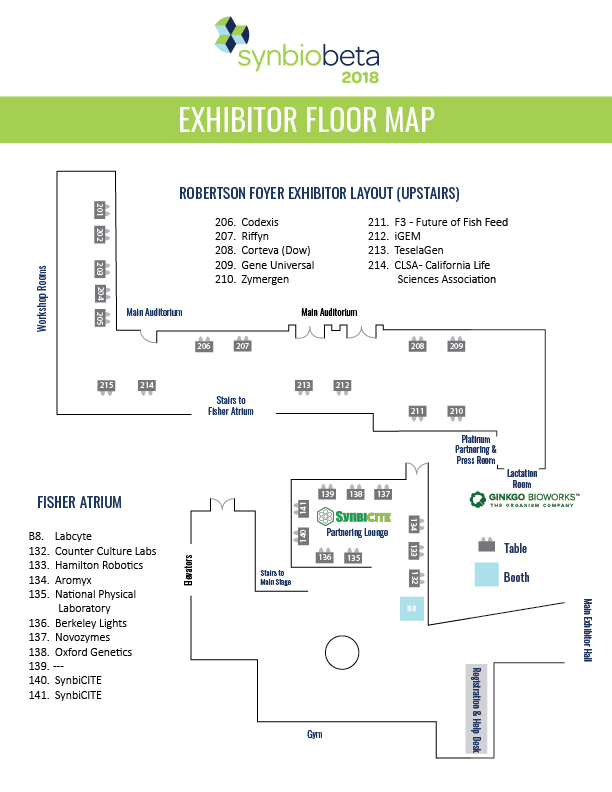 This information is downloadable here, including the floor map and space assignments.
Pre-conference Preparation
Important dates:
Logo and artwork print deadline: Monday, September 3 by 5:00 PM PDT

Program guide print deadlines: Monday, September 3 by 5:00 PM PDT


Exhibitor / Sponsor setup: Monday, October 1st from 9:00 AM to 2:00 PM PDT

Exhibitor / Sponsor breakdown: Wednesday, October 3rd from 6:00 PM-8:00 PM PDT
Program Guide Advertising
All program guide ads are due on Monday, September 10th by 5:00 pm PDT. Please send ads in either high-quality PDF or hi-resolution JPG format to support@synbiobeta.com. The program guide is in landscape aspect and the ad specifications are as follows (width x height):
Two-Page: 21w x 8h"

Full Page: 10.5w x 8h"

Half Page: 5.125w x 8h"

Quarter Page: 5.125w x 3.875h"
Note: No crop marks. High resolution PDF preferred. 300 DPI. Other formats accepted are jpg and png. Please output in CMYK format.
Table/Booth Contact Information: Please note that we will need a name and cell number for a primary contact for your exhibit table/booth. If you have not already done so, please send this information as soon as possible to support@synbiobeta.com. We ask that you have a representative from your organization at your booth at all times.
Exhibition Hours for SynBioBeta
Dates:
Monday, October 1 – 5:00pm to 9:00pm
Tuesday, October 2 – 8:30am to 6:00pm
Wednesday, October 3 – 8:30am to 6:00pm
Address: 1675 Owens St #251, San Francisco, CA 94158
Hotel Arrangements
A block of rooms has been reserved at:
When calling and making the reservations be sure to mention that you are registering under the SynBioBeta 2018 Conference block of rooms.
Shipping Information
Please be advised that items will not be accepted more than two (2) days prior to the event. Exhibit materials may be shipped to:
Mission Bay Conference Center @ UCSF
SynBioBeta, Anissa Cooke
1675 Owens Street, Suite #251
San Francisco, CA 94158 (UPS or Fedex) or 94143-3008 (USPS)
attn: Marina Stamas
We recommend sending packages via Fedex. USPS will take up to 2-3 weeks for us to receive because it will be sorted through the UCSF mail system.
The following information must be submitted to Marina Stamas at stamas-marina@aramark.com (if information is missing, your package will be rejected):
Event name (SynBioBeta 2018)
Event dates (October 1-3)
Vendor company name
Vendor contact name, address, telephone number and email.
Number of boxes arriving and the shipping carrier you are using (Fedex is easiest).
If you are shipping a pallet, please have it arrive on Monday, October 2nd. You are responsible for getting the pallet from the loading dock to the exhibition room, Mission Bay Conference Center will not move it for you.
Please note that Mission Bay Conference Center and SynBioBeta do not accept any responsibility for loss or damage to these goods.
Mission Bay/Synbiobeta will not be responsible for any VAT/ excise duty owed on shipments.
The Conference and Events Office will not sign for any delivery where outstanding taxes or payments are due. Please ensure that the correct box is filled in on the AWB so that any taxes due are billed back to the sender by the courier company.
Setup
Setup will start at 9:00 am on Monday, October 1.  Vendors must arrive by 9:00 AM to claim their table unless prior arrangements have already been made with us; unclaimed tables will be removed from the exhibition area.
Upon arrival at the conference center for setup, please ask for Anissa Cooke who will be your main point of contact for setup. Registration is located on the first floor, outside of the Fisher banquet room.
Items, excluding large shipments and pallets, that have been shipped to and successfully received at the Mission Bay Conference Center before your arrival will be held in the Coat Check room on the second floor.
Breakdown and Load-Out
All vendors can break down their booths on Wednesday, October 4 starting at 7:00 PM, after the conference reception has ended.
Vendors who are shipping items out of the Conference Center will need to make arrangements to have their items picked up by the shipping company. It is important to note that the Mission Bay Conference Center will not handle these arrangements on the vendor's behalf. Items not picked up from the Conference Center by Thursday, October 4th will be discarded. Shippers will have access to the exhibit hall during business hours.
Important Exhibitor Information
Lead Retrieval: We are giving every exhibitor access to a lead retrieval system (through participation badges). Stay tuned for an email to come with those details.
Shout out on Social Media
Let your followers, clients, and networking prospects know where to find you! Tweet with #synbiobeta18 or post on Facebook, Instagram, LinkedIn and email to your contact list that you'll be sponsoring or exhibiting at the conference.
News and Announcements
If your company has any embargoed press releases or announcements, please send to info@synbiobeta.com as soon as possible.
Networking App:
Presdo one-to-one meeting software enables you to book meetings with other delegates online ahead of the event, and manage your schedule (coming soon).